Tues, Dec. 10, 2003 - Pai, Thailand.
We've arrived in the wonderfully serene mountain town of Pai, halfway between Chiang Mai and Mae Hong Song, after passing through Chiang Mai and deciding we'd rather get out of the city.
The place we're staying at here is nicely secluded on the edge of the small town, about a quarter mile from the center. Close enough to be convenient, but far enough away to be quiet and peaceful. The complex itself, the Pai River Lodge, is probably the nicest in town and we've got probably the best bungalow here. All the bungalows are bamboo and thatch. Ours sets directly above a little river with a balcony that extends nearly to the waterfront. And a hammock right at the edge of the balcony. It looks like a place you'd see in a travel magazine. And the best part, it's only $5 a night. I must be dreaming.
After coming through Chiang Mai on our way here, and seeing how nice it is where we're at, I'm not sure if we'll be spending any time in Chiang Mai during this trip after all. There's just too much to see and experience out in the countryside, and the cities here are sadly unattractive from what we've seen so far. We've also decided to cut down on the time we'd planned to spend in Bangkok at the end of the trip. Bangkok is not without it's attractions, but given a day in the city versus a day on the beach, it's not much of a decision. We're staying at the beach another day longer.
We've had many, many great experiences here so far, and will have many stories to tell, but a couple of them stand out nicely that I want to relate here.
---
Lida's visa
When we were in Siem Reap, Cambodia, we had some down time and decided to look around for a while in the new market. At one of the last shops we came to before leaving, we met a 32 year old shopkeeper named Lida (pronounced LEE Dah) Tith Nav. His English was fairly good because he'd been in the Cambodian army and had trained as a linguist in English. However, when he found out were were English speakers, and English speakers from America specifically, he asked us if we could assist him with something.
From his tone, I wasn't sure what he would be asking, but having heard stories about Cambodia - police entrapment, corruption, drugs, prostitution - I was a bit guarded at first. Then he pulled out a bundled of stapled papers and unfolded them for us. It had been heavily notated and sections translated into Khmer.
Before even giving it a quick glance I saw the header - "United States of America, Department of State". He was trying to apply for a diversity visa to come to the U.S. and couldn't understand some of the legalese and technical specifications.
As we looked over the papers, taking care to be very precise and clear, and gauging his understanding, I was consitently sensing some trepidation on his part. I suspected I knew why, but wanted to probe him about it.
Before I got the chance, Lida asked me, "Do you know much about politics?" My reply was that I knew quite a bit about politics in the United States, and knew quite a bit about the law from working for a legal publisher, but my knowledge of Cambodian politics was pretty much limited to what I'd learned about the history of the Khmer Rouge and read about while researching this trip.
In a low voice, he told us a bit about Cambodia and its leader, Hun Sen. Hun Sen has been in power since 1986, appointed to his position by the ruling Vietnamese government, who occupied Cambodia for ten years after deposing the Khmer Rouge in 1979. Since then he has strengthened his position, eliminating - either physically or politically - anyone who would challenge his power. He was defeated decisively in a 1998 election, but refused to concede power. He still holds office today, due mostly to a policy of forced allegience from members of the military.
All members of the military, like Lida, are required to ally with Sen's Cambodian People's Party. Recently, with the rest of the world watching more closely, the political situation is beginning to change. Two other parties in Cambodia, FUNCINPEC and the Sam Rainsy party, have an open presence in Cambodia and are gaining support.
So as not to put Lida in any kind of possible jeopardy, I am going to refrain from conveying any details of my conversation with Lida, but can convey what unfolded after this long conversation. What started out as John and I simply helping him look over the papers and explain some things, evolved into something much more.
Lida needed a photo to submit with his visa application and didn't have one. He needed to apply over the internet, but had never been on it and didn't know how it worked. John suggested to Lida, that with my digital camera and an internet cafe two blocks away, we could get his application in order and sent off immediately.
So at that, I took Lida's photo, sized it correctly in Photoshop - which I had with me on my laptop, and we all went down to the e-cafe to send it off. After about ten minutes of filling out the form, and a bit of confusion over the proper syntax of addresses in Cambodia, I pressed "Submit" and got back a confirmation that his application had been received.
Fearing that he misunderstood, he had read the screen saying "Your application has been accepted", I tried to be very clear and somber and explain to him that this didn't mean he had a visa, only that he will be considered for a visa. He assured me, "I know, I know. But this means I now have a chance."
UPDATE: After a period of relative political freedom, in which leaders opposed to the ruling Hun Sen government had become more vocal and visible, the situation has recently taken a turn for the worse. After witnessing a rising level of political intimidation over the last year, as well as assassinations, the violence culminated on January 22, 2004 with the murder, in broad daylight, of opposition leader Chea Vichea on the streets of Phnom Penh. Human rights observers anticipate an escalating decline in political rights and openess to follow. More here.
---
"You have Buddha. Come in here."

John and I had traveled entirely overland during the trip so far. It's not as comfortable as flying for sure, and not nearly as fast, but it's such a rewarding experience to be able to see all the little towns and villages, stopping occassionally and interacting with people where they live. It's a part of travel here that I wouldn't skip no matter how uncomfortable.
However, for the trip to Huay Xai, on the Thai-Lao border in the north, from Luang Prabang, we opted to fly. Not only because the flight was short and cheap, but because the only two other options for getting there were by boat (two days) or over the road (about 12 hours, if at all, from what we heard). Neither sounded like a good option.
So, conceding to speed and comfort, we headed to the Luang Prabang airport after three days there, and prepared to check in. Just in front of the check in counter, there was an X-ray screening station, but no metal detector, which I thought was a bit odd. Why X-ray people's bags if they could walk right in with a gun?
I soon found out what the X-ray was for and it had nothing to do with weapons. It is against the law in Laos to take any figurine with the image of Buddha out of the country. Don't ask me why, I don't really know.
When I put my bag through the X-ray, the screener came out of the screening room, which ominously concealed his identity previously with tinted windows. In a manner that made me uncertain whether it was a question or a statement, he said, "You have Buddha."
I said, "No.", but immediately realized what he was talking about.
As a thank you gesture, Lida from Siem Reap had given John and I two Buddha figurines for helping him with the visa. Uh-oh, I had just lied to a Laotion security guard and he didn't seem to have an ounce of good-naturedness about him.
After I said, "no", he ordered me, "Come in here." He pointed to the X-ray screen which made it embarassingly clear that I did, in fact have a Buddha packed in my bag. He looked at me silently, but his expression was challenging, as if to say, "Tell me again you don't have a Buddha."
I explained that I had gotten it in Cambodia, not Laos. He ordered me to open the bag and get the Buddha. I didn't fear I'd be going off to a Laotion prison, but I expected he was going to confiscate the figurine, which I did not want to happen since it had such a signifigance attached to it now.
I told him again that I had gotten it in Cambodia, not Laos. He tore open the wrapping and examined it. I could then see that he noticed the Khmer newspaper it was wrapped in - how fortunate that it had been wrapped in a Khmer newspaper - which essentially verified the origin.
He then called in his supervisor and spoke a few words. The supervisor didn't say a word, but looked at me and shook his head as if to say, "No problem." The screener then re-wrapped the Buddha handed it back to me to re-pack. He simply said, "OK".
I expect the same might happen when I leave Thailand. I'm prepared.
---
Down to our very last kip and dollar
John and I spent 7 days in Laos. Like Cambodia, the Laotion currency, the kip, is not valid or exchangable anywhere outside of Laos. So, essentially, you want to spend every bit of kip you get - except for a few notes as souvenirs - before leaving Laos.

The night before leaving, we had gone to the night market and picked up some nice things we really wanted. John got a pair of pants and a shirt. I got some smaller things like an ink drawing of Luang Prabang and some ebony and silver chopsticks. There's so much nice stuff in the markets, I think when I come back here, I'm going to bring an extra duffle back just to take home stuff that I buy.

After spending all but about 40,000 kip (four U.S. dollars), we had just enough to get breakfast and a ride to the airport if we were careful. After paying for breakfast and paying the tuk tuk driver with one of my two U.S. dollar bills, we had about 5000 kip and one dollar left.

Let this be a lesson if you're ever traveling in Asia... always leave yourself with more money that you think you'll need. There is always some unforeseen incidentals.

At the airport, we learned that we'd have to pay another 5000 kip apiece as a departure tax. I paid for both of us with my last one dollar bill. U.S. dollars, Thai baht, and Laotion kip are used interchangeably here. And the easy exchange rate, 10,000 kip to the dollar, makes paying in dollars almost instinctual.

So we made our flight out of Luang Prabang and felt secure knowing that we'd spent all but 5,000 kip and were now entering Thailand. But there was one more thing we forgot. We needed a tuk tuk from the airport in Huay Xai, where we landed, for the 5km ride to the ferry crossing. The driver wanted 10,000 kip each and wouldn't negotiate. We only had 5000 kip left.

After some hand wringing and wondering if we'd have to walk, John finally suggested we just get on and go to the border crossing. We didn't have kip - and I wasn't about to change one of the 1,000 baht notes I had into 250,000 kip just minutes before leaving the country. But you never pay for a ride in advance, always when you arrive. So, we correctly assumed that we could take the tuk tuk to the border and break one of the thousand baht notes there into smaller bills and pay the driver when we arrived. After asking at three different places I finally found one to give me change and I ran back to the driver to pay him in baht.

And I'm not sure if he's bad at math or made a mistake, but he only asked me for 40 baht, the equivilent of one dollar. That was half of what he asked for back at the airport, 10,000 kip each, the equivalent of two dollars. Nice break I guess.

After a bit of amuzement at the situation we'd put ourselves in, we hopped on the ferry and crossed into Thailand for the third time on this trip, but this time to stay.




---
Pheng, the Novice Monk
Photo by John Collins

In the town of Luang Prabang, one of the dominating features is Phou Si mountain and the temple that sits atop it. One night while there, we decided to go to the top to look down on the city at sunset.
Being that Luang Prabang is filled with Buddhist wats, there are monks all over the city and most of them are novice monks, young monks who are just beginning in their Buddhist studies.
Despite the monks being nearly ubiquitous, I, like most Westerners, have a curious reverence for the monks. When I first got here, I also wasn't sure about the protocol about engaging with the monks. But as I found out, they're very eager to engage with visitors, and outside of their devotions and and morning rituals, they're just like young non-monks - they cut up, laugh and joke, tease each other, chat on cellphones, and even sneak a smoke here and there.
While we were at the top of the mountain a novice monk named Pheng (pronounced Ping) was quietly looking out over the town, and looking down at the wat where he resided, as I found out later.
Most of the monks learn English in their studies and most are very eager to practice with English-speaking visitors. Pheng approached me with what had, by now, become a very familiar greeting, "Hello. Where are you from?"
I told him "I'm from America." And that began a very long conversation with Pheng, who spoke very limited English, about America, his studies, politics, terrorism, Buddhism, Christianity, the people of Laos, and many other topics. It was the most I had engaged with one of the monks since I'd been in Asia.
I learned that he was from the nearby farming village of Ban Sansook, where his father was a farmer. He kept apologizing for his poor English and explained that he'd been taking English classes but had to quit because he couldn't afford it. Classes cost five U.S. dollars a month! But he couldn't afford that.
This was one of many humbling experiences that I would have while here in Asia. Five dollars a month to him affords him the opportunity to learn English and possibly go on to University. Five dollars a month to me, and most Americans, is completely insignificant. It was quite an eye-opening, humbling, chilling, compelling, and profound epiphany.
Long after dark, and long after the others had gone off to dinner, I had to tell Pheng that I needed to go. We could have talked all night. Unfortunately I didn't have that much time left in Luang Prabang.
Before I left him though, I decided that I'm going to help Pheng re-enroll in his English classes. Five dollars is nothing to me. It means the world to him. I can't not help.
---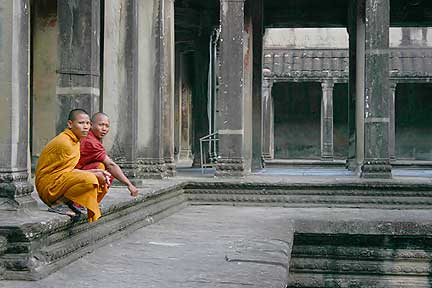 Two monks at the Angkor Wat temple.

One of the stone faces of the temple of Bayon.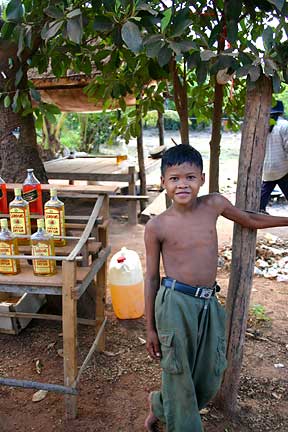 From 1975 through 1979, the Khmer Rouge, under its leader Pol Pot, initiated a Communist ideology that included transforming Cambodia into an agrarian society and emptying out the cities. All of the country's educators and intellectuals were executed, as well as anyone who spoke out in dissent. Eventually, the callousness became random and devolved into senseless slaughter. In the end, 1.7 million people were killed. Cambodia is still struggling, and will continue to struggle for at least a generation, to recover from the aftermath of the Khmer Rouge. This photo is from a memorial where some of the mass graves were discovered.

Mangrove trees on the Tonle Sap Lake
The Floating Villages of the Tonle Sap
One of the most interesting daytrips we took was just a few kilometers south of Siem Reap to the Tonle Sap lake. There, Vietnamese refugees have built a cluster of villages that sit on stilts lining the shores, and floating boat homes that permenantly reside on the water. We found some of the most quintissential scenes of Southeast Asia. It was nearly impossible to take it all in, but hopefully some of the photos give a glimpse of life in this fascinating area.




Images from Laos
After a week in Cambodia, we went back over the road to Poipet to cross back into Thailand and get a train from Bangkok to the border of Laos. From there we stopped in the town of Vang Vieng for what we thought would be one night, just to break up a long days journey. The town we so beautiful and relaxing that we ended up staying four nights.
There's a lot to like about Vang Vieng. Impossible scenic sunsets everynight, a natural terrace that overlooks a trickling river set in front of impressive limestone mountains, many caves to expolore, a bevy of good places to eat and sleep, and a very casual atmosphere and friendly people. If you're planning a trip to Southeast Asia, I would recommend a few days in Vang Vieng.
We also took a long, winding bus ride up to the town of Luang Prabang. This town is a UNESCO World Heritage site because of its many wats. The town is lively and interesting, but for us, the real highlight was getting outside of town just a bit and seeing the Kuang Si waterfalls about 30km to the south. The ice blue water there and the multi-tiered cascades were just too impressive for words. We spent a good half day splashing around in a little swimming hole at the top with a vines there were just perfectly placed for swinging into the water.

Swimming hole near the Kuang Si falls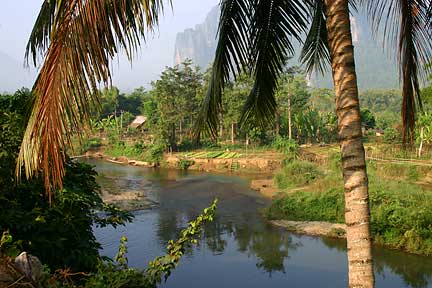 Did I mention the impossibly gorgeous sunsets in Vang Vieng?
Cambodia
Tues, November 26, 2003 Siem Reap, Cambodia -
My friend John Collins and I arrived in Siem Reap Saturday afternoon after a long and arduous journey involving three flights, one comfortable bus, a short ride in a tuk tuk and one painful, bone jarring ride of 200km in a dilapidated Toyota Camry taxi that reeked of gasoline.
Even though we were coming from different parts of the U.S., me from Nashville and John from San Francisco, our layovers in Tokyo were nearly at the same time and our landing in Bangkok was nearly simultaneous. We met up in Tokyo for about five minutes before I had to board my flight to Bangkok. Once we were in Bangkok together, we had a few hours to relax at the airport before heading straight to the bus station to go to the Cambodian border at the town of Aranyaprathet.
So far, it had been long and tiring, but nothing too stressful. That changed once we got to the border. The contrast between the Thai side and the Cambodian side could not be greater. At the border we were met by a very somber, no-nonsense border agent who presented us our visa applications and a matter of fact request for the 1000 baht ($25) visa fee. A few minutes later, we were both presented with our Cambodian visas (and a very impressive visa it is - printed with all the color and intricate design of most paper money) and were free to walk through the large imposing gate over the road stating "Welcome to the Kingdom of Cambodia".
Following us all the way from the Thai side to the Cambodian side were several "touts" - young men and boys who cajole and harrass you into using whatever service they're touting. By the time we were about 2 feet into the Cambodian side, we had picked up three more touts in addition to the two that had already claimed us as theirs on the Thai side. I did my best to ignore them so as not to encourage that behavior, and found a taxi driver on my own, offered him the appropriate amount of baht for the trip to Siem Reap and was prepared to be on our way. Well, I guess there's some sort of syndicate among the touts and taxi drivers, because as soon as we picked our driver, one of our touts (which we had pretty much ignored and told to scram) got belligerent and threatening with our driver, who soon drew a single U.S. dollar bill and handed it to him, apparently settling the matter.
In the midst of all all this, between the border guard station and the circle of waiting taxis - about a 100 yard walk - was some of the most interesting, shocking, and sad sights I'd ever seen. It seemed to hammer home the point "welcome to the Third World". There were limbless beggars, filthy women carrying babies, filthy children carrying babies, naked children begging, children and adults riding in, and on top of, trucks, twenty or more packed into the bed of a small pickup. Then there was the trash, strewn everywhere as if we were at the site of a huge concert festival the morning after it was over.
As dramatic and chaotic as that experience was, it didn't last long. After getting our visas, we navigated through the chaos and was on the road in a matter of minutes. And the road at first was mostly paved, but broken up in huge piles in some places. After the town of Sisophon though, the road turned to dirt, and was one of the most pitted, pocked, and bumpy roads I've ever gone over. It was so filled with craters that it was truly like navigating an obstacle course. We'd make wide swings from one side of the road to the other trying to avoid the holes, some of which were the size of the car itself. Oh, and everyone else on the road was doing this too. Officially, traffic in Cambodia drives on the right. In reality, you just drive where there's a clear spot that's the least tattered.
Most people wouldn't take a 4x4 over a road like this at more than about 25 miles per hour. But not our brave driver. In some places he had us flying over this obstacle course at 80kph (50mph). By the time we got within 30 km of Siem Reap, we both felt like the trip over this road had been a great adventure, but weren't eager to repeat it.
Disregarding the gut churning ride, this road was absolutely fascinating. The whole length made me feel like I was watching the pages of National Gepgraphic come to life. This really is the other side of the world, geographically and culturally. Along this road, we saw so many sites that are quintessential Asia. Coconut palms line the landscape. Wooden shacks on stilts, with thatch or tin roofs dot the side of the road. Among all this, you see young children herding ox, women with colorful headdressings cooking over an open fire, old men with characteristiclly leathered faces hauling straw - or chickens, flowers, rice, or baskets - to the nearest market. You see children playing in dirty swimming holes, riding their bikes to school in neat, clean, uniforms, or mothers cradling their children in a hammock swinging in the space underneath the stilted one room home.
We saw similar images on our way out to the remote village of Kbal Spean, about 50 km (30 miles) north of Siem Reap, out to the fringes of established roads. On the way out, we didn't see any other foreigners. This is something we were both looking for. The road to Kbal Spean was what's considered a secondary road in Cambodia, about an eight foot wide path of dirt that was cleared once and mostly forgotten. Further past Kbal Spean, there are more tertiary roads which I can only imagine are nearly impassable. It took us one hour to get to Kbal Spean from the next nearest village of Bantey Srei, seven miles to the south.
Words can't describe our experience here so far, and neither can pictures unfortunately. I came here eager to snap as many pictures as I can to capture life here. Now I think it's a futile effort to even begin to convey anything about this place in pictures. You would need to live here and walk the roads everyday to even get close to capturing it. Nevertheless, I'm going to give it my best try in a few pictures I've already taken that have really jumped out at me.
I hope you enjoy them also.
Todd
---
The Cambodian border at Poipet

This was the gas station we stopped at along the road from Poipet to Siem Reap. Those one liter glass bottles are the gas.

And this is our station attendant filling the tank.
The Cambodian Countryside
The Children of Cambodia

These two kids were playing music at the exit of one of the Angkor temples. Many kids come here to try to sell souvenirs or trinkets to tourists.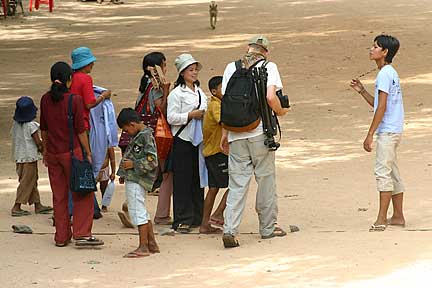 My friend John walking through the throng of kids vending at the temple of Sras Srang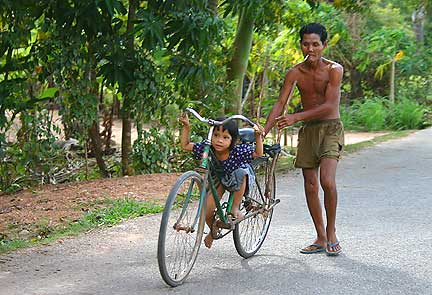 An eleven year old boy selling flutes at Ta Prhom

A thriteen year old girl selling at Sras Srang

The little boy in the blue shirt squealed and convulsed when I showed him his picture on my camera's LCD. I wonder if he'd ever seen his picture before.

This little boy's mom was apparently a temple guard at Angkor Wat.

John joking around with a young vendor girl at Ta Prhom.
The Angkor temples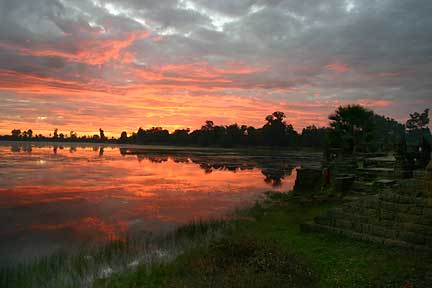 Sunrise at Sras Srang

Ta Prohm, my favorite of the temples because it looks like something from a Tim Burton movie, with the trees taking back the land where the temples were built.

Ta Prohm

Ta Prohm
Around the town of Siem Reap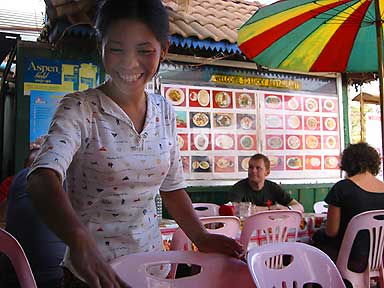 This was our server at the Lucky Restaurant. She saw me trip on the way into the restaurant and never quit laughing about it from the moment we sat down until the time we left, and then even when we saw her the next day.

I was warned repeatedly to not drink the water. But what do you do when your silverware comes dipped in water???

Just outside our guesthouse

The view from the balcony at our guesthouse. I highly recommend the Red Lodge if you're ever in Siem Reap.