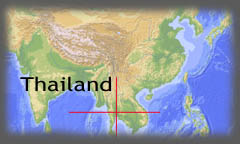 $1 = 4,000 Cambodian riel
$1 = 10,000 Laotion kip
$1 = 40 Thai baht
Farang: Foreigners, westerners
Tuk tuk: A motorcycle with a passenger carriage on back
Songthaw: Pickup truck with bench seats in the converted bed
Dispatches from the road
Part 1: Cambodia Travelog
Part 2: Laos Travelog
Trekking near Chiang Rai
Pai
Krabi, Railey Beach, Ao Nang
Bangkok
<!- left side picture arrays ->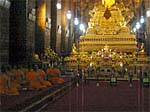 Monks at evening chants - Wat Po
Elephant treks are part of the appeal of northern Thailand
A young Akha tribe boy selling bracelets
Lahu village huts high in the hills above Chiang Rai
A small group of hill tribe homes
Bananas grow in the wild
There is no seat here, only footpads
Monks on the run in Chiang Rai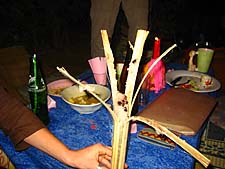 A sweet and nutty desert made from rice packed and cooked in bamboo
Motorcycles are a great way to get around in northern Thailand
Our friendly server, John, at Take a Seat cafe
The view from our front porch at the Pai River Lodge
Raw meat sets out on display tables at the street market in Pai
Chicken, snake, and frog are just some of the meats available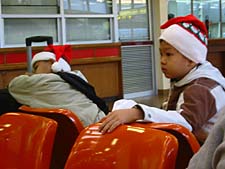 Sometimes the little things I see when traveling amuze me the most
The blazing orange sunset at West Railey beach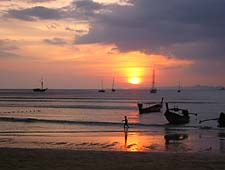 And the color changes quickly
Fresh from the sea, shark for dinner
The beautiful bay at Hat Ton Sai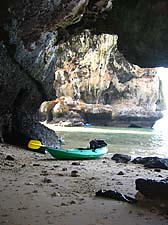 Kayaking around the little islands around Krabi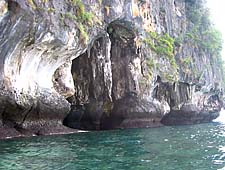 Phra Nang cave
Soaring limestone cliffs of the south
Glowing blue water under an eroded cliff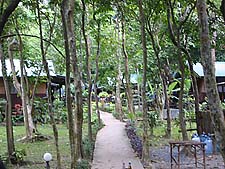 Dream Valley lodge, where we stayed in Hat Ton Sai
A remote lodge near Krabi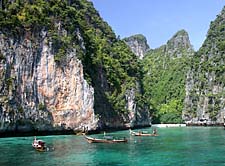 Some of the best scuba diving in the world is at Ko Phi Phi Leh where "The Beach" was filmed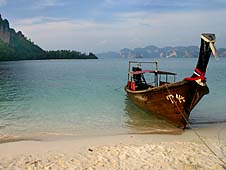 Longtail boats are the main means of transportation around the islands of Krabi - there are no cars
Fire shows are performed several times a week at Hat Ton Sai
Don't try this at home
A view to the beach at Hat Ton Sai - truly a tropical paradise
The cliffs at Hat Ton Sai just beg to be climbed
The very popular West Railey beach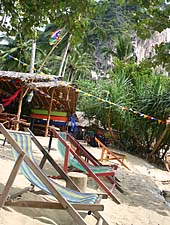 A great little spot to relax, at the appropriately named Chill Out bar on Hat Ton Sai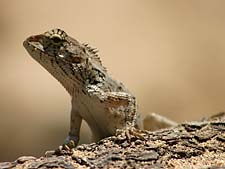 A friendly lizard came to say hi
Sunset over Wat Po, Bangkok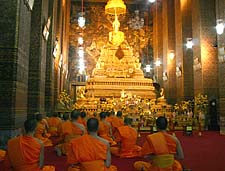 Monks in their evening meditation at Wat Po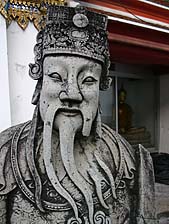 A life-size stone guard at Wat Po
Dusk is a great time to visit Wat Po
An ancient acupuncture chart
The giant gold reclining Buddha is about the size of a basketbal court
Backpacker hell - Khao San Road
Patpong, Bangkok's red light district
Fried crickets are among the many interesting foods available in the night markets of Bangkok
This is the continuation of my southeast Asia travelog, which began in Cambodia, then on to Laos.
Two weeks through Thailand
After taking a short flight from Luang Prabang to Huay Xai, we crossed back into Thailand at Chiang Khong and paused a bit to have lunch. We decided to skip the original plan to see Mae Sai and decided on Chiang Rai instead. Our only purpose to go to Mae Sai was to cross into Myanmar for a day, but after reading our guidebook's negative review of that daytrip, and seeing how it would impact our quality time elsewhere, we decided to go to Chiang Rai instead.
After a bit of confusion with a tuk tuk driver who wanted us to buy a ticket on his brother's private bus, we made our way to the "bus station" in Chiang Khong. It wasn't really a bus station, but rather a market with a small parking lot where buses can park. While we were here, we took advantage of the great little market here. I picked up a whole fresh pineapple, cut for me on the spot, for only 10 baht (25 cents).
The bus to Chiang Rai was a bit interesting. When we first saw it, I wasn't sure whether it was even operational. It looked like something that would be parked out back of a service station, abandoned and resigned to ruin. Certainly it has to be the oldest and slowest bus in the entire fleet of Thai public transportation. It has vinyl covered bench seats like an old school bus, except they're a nice 70's peach color with white accents at top. Oh, and like the beds at the Mekong Guesthouse, what little padding there might have been at one time has worn down to the very hard, bumpy structure beneath.
We arrived in Chiang Rai and stayed at the Mae Hong Son guesthouse. It was really nice with a nice garden setting and the young lady that ran it was super friendly, eager to please, and spoke very good English.
We had only intended to spend one night, maybe two, and ended up spending two, for a couple of reasons. John had started getting sick and spent most of our second day there in bed. We had bought one day treks to go to hot springs, a waterfall and to see hilltribe villages. We opted not to do the elephant ride; I had done it before and didn't think it was anything impressive, John felt it was cruel to the elephants. Even though we skipped out, we had to stop there anyway as everyone else in the group wanted to do that.
We boated for probably an hour down the Nam Kok river to get to our first stop. As soon as we got to the elephant camp, John started declining fast. He asked our guide if it was possible to take him back into town. So he went back and went to bed, while I went on, by myself with just the two guides, to the hot springs. I got really fortunate in skipping the elephant ride, because it put me ahead of the rest of the group and essentially left me to take a private guided tour.
Both guides spoke the hilltribe languages, and one spoke good English, so I was able to communicate through him with some people in the hilltribes we met along the way.
That was about the only thing notable about our time in Chiang Rai except our food bill at the guesthouse. We really didn't hold back at all. When we checked out, our bill was nearly 1600 baht. Only 240 of that was for the room, the rest was food.
After Chiang Rai, we got on the public bus to Chiang Mai. We had intended to take the 2nd class air-con bus, but it left an hour later and we were eager to get a move on. Besides, with the open windows air-con wasn't really needed. What we didn't know though, was how crowded a public bus can get. After several stops, there were people standing in the isles for the three hour trip. One Akha tribe family got on that were interesting to look at. One was a capitvatingly beautiful young girl, probably about 15 . The mother, I assume, had the traditional Akha headdress on. Both she and one of the two older men had red and black stained teeth, the telltale sign of a life spent chewing betel, a high-inducing nut indigenous to the region.
When we got to the Chiang Mai bus station, we were left to make a decision whether to stay there or move on to the next place we wanted to go, the town of Pai. Since John wasn't feeling well, and the bus ride we'd just finished was pretty taxing on him, he was really concerned about getting on another bus for three and a half hours over the mountains at night. I really didn't want to stay in Chiang Mai, after seeing a bit of it on the bus in, but was ready to defer to John's sickness. We decided to go get a good, sit-down meal and mull it over. In the end, we decided to get on the 4 o'clock bus, another public bus, to Pai.
This bus wasn't quite as bad. It was smaller for one, and less crowded. Like the last bus, it was mostly Thais onboard. We were two of only four farang (westerners). The other two farang, Mara and Dee, we got to know when we made a stop for dinner.
One of the farang, Dee, had been traveling and working for the last eight years. He was going home to New Zealand after this stop in Pai, where he and his siblings were going to surprise their parents by all showing up for Christmas unannounced.
We spent a leisurely couple of days in Pai so far. We rented motorbikes with a little trepidation. I wasn't too concerned, since they were automatic transmissions. John had a little more confidence, but maybe it was misplaced. He crashed his bike within about two minutes of leaving the rental place, injuring his leg and arm, not to mention the bike.
We kept the bikes a total of three days after intending to keep them only one. They were just so much fun and very practical. They're a great way to get around, and very cheap at only $2.50 a day. Once John got more comfortable with the bike, he was all for keeping them the extra days, where he had been not so keen on getting them in the first place.
That was my first time ever riding a motorcycle, even for what little motorcycle it was, but I loved it. I was suprised how easily I handled it.
After we got the bikes, it made it a little easier to get out and see some of Pai. There's a lot to see around there, but you'd need a while to do it. We went back out to the hot springs we had visited the day before, twice in fact. We saw the canyon just outside of town, which was much cooler than I at first thought it would be. It was really big and the features were impressive - with winding walkways crisscrossing along deep gorges and forrested mountains. It was a really nice place to see the sunset, which we did twice. We also found a great restaurant called Cafe Del Doi that sat near there on a hill overlooking a valley of rice fields. With the mountains in the background and a western view, it was one of the best places in town to see the sun set.
The place we stayed at in Pai really made our trip enjoyable. We were at the Pai River Lodge, and had probably the best bungalow in the place, right on the river. Sitting on the balcony, in the hammock, all you could see over the front rail was the river. It was sweet. And the four guys that ran the place were so chilled and friendly, we couldn't have found a place more suited to us. It was far enough away from the hubbub of the town to be quiet and relaxing, but close enough to walk into town for dinner or shopping. It was only about a quarter mile from the main intersection.
I love staying in a place long enough to start recognizing faces and getting to know people. That's probably why I like smaller towns and villages rather than the cities. We found a favorite place for breakfast during our five days there, the Take a Seat restaurant, right at the end of the alley leading to the lodge. John and I, along with some friends we'd made along the way, made this our usual spot for breakfast. We came to know a server there named John (although he was Thai) who was a real slick guy. He was funny in that he would always repeat what we had ordered, then gave an almost Tourettes-like wink and click of the toungue.
I really liked Pai a lot. For such a small town, a crossroads between two main tourist attractions, really, it has a lot to like. There were several art galleries, mostly local art, a great photography gallery, and plenty of unique and well-made handcrafts. In addition to that, the afternoon food market was one of the best I'd seen anywhere since arriving in Asia. For five baht (about twelve cents), you could get some of the best food in town - fried spring rolls, pork dumplings, and a fried pastry filled with lentils and curry (which they strangely called chicken). We also found a desert pastry at the market that was too delicious to be legal. It was sweet coconut milk, baked in little pods about the size of a Reese's Cup, so it had a shell almost like creme brule with a sweet creamy middle. I've got to find a way to make those. I'm addicted.
To the Beaches
So, after five days in Pai, we decided it was time to head to the beaches in southern Thailand. We got on a songthaw for a long and widing three hour ride breathing diesel fumes the whole way, to get to Chiang Mai. We made it to the bus station, but not before each of us was feeling like throwing up. We at first thought we'd have plenty of time to tool around in Chiang Mai, but as it turned out, the overnight train to Bangkok was leaving at 4:45 and we'd arrived at 2:30. We had only a couple of hours to kill, so we got our tickets (a first class sleeper - the only thing left available) and went across the street to get something to eat and whittle away two hours.
We found Cyndi, who we'd met in Pai. She was also on this overnight train in order to fly out of Bangkok to Bali, where she would spend the next ten days. After boarding, taking a little nap around sundown, and then sharing some wine and snacks with Cyndi, we turned in for the night.
Fortunately for us, the train made a stop right at the airport. We got off, got a few things in order, then decided which airline to take down to Krabi. One of the things that I really like about air travel in this part of the world is how easy and cheap it is. You can walk up and buy a ticket minutes before the plane takes off and it costs no more than booking ahead. That doesn't happen in America. They're also very flexible about schedule changes. John didn't know the exact details of his flight home, so we guessed and chanced it. I booked a round trip ticket to return on Dec. 20th. Once we got in the terminal, he checked his email. He had a message from his mom saying his return flight would be the 20th, meaning he'd have to return to Bangkok on the 19th. No problem. The lady at the Phuket Air counter, where I'd just bought the ticket, simply put a sticker over the old date and wrote in the new one. Simple as that. Then, yet again, John got another email from his mom saying he'd have to fly out on the 19th instead. No problem, on the morning of the 18th, he just showed up at the airport changed his ticket again.
So, after our one hour flight on Phuket Air, we arrived at Krabi airport, one of the smallest airports I'd ever been to. Rather than coming out on a conveyor, our bags were actually taken off the plane, loaded into the back of a pickup truck, unloaded from the pickup and delivered up the escalator that we'd just come up. It was a bit amuzing. No sooner than we'd stepped out of the baggage claim area, we found a taxi to Ao Nang for 500 baht. I probably could have gotten it for less, but we were both just eager to get there. We took the taxi, arrived in Ao Nang about 20 minutes later. This was the connecting point for the isolated penninsula where some of the best beaches in southern Thailand are found, and no roads are permitted here.
Once in Ao Nang, we hopped on a longtail boat to Railey West beach. When we pulled up, both of us, I think, were a little put off. It seems that Railey West really caters to the old, fat, rich European tourist. That is not at all the scene we were looking for. Nonetheless, after hearing how hard accommodations were to come by, I booked a room at the Railey Village for 2000 baht a night. I had really intended to stay there, but that would soon change.
The next day, we swam over to Hat Ton Sai, and both immediately loved it. It was so much quieter, in the physical sense as well as in atmosphere, and decided immediately to move to a place there. We walked up a quiet dirt road, still reminiscent of a time where there was little development in this area. With the coconut plams and hammocks everywhere, it literally struck me as something from Gilligan's Island. We both took it in and enjoyed it, knowing that moving here would be what we were looking for. We found a room at Dream Valley and made a reservation for the following five nights.
The move to Hat Ton Sai was a good one. There is so much to do and the atmosphere there was everything we expected and hoped for. It's younger, less expensive, and much more relaxed. There are some nice, friendly people at the resort we're staying at. They have a fire dance show every other night, which really is interesting in its artistry. Two of the guys doing the fire dance were really good.
While we were here, we went scuba diving, my first time ever, with Railey Divers. They were a good outfit and I'm happy we went with them. We did two dives, the first at Koh Bida Nok, the second at Koh Phi Phi Leh, where the movie "The Beach" was filmed. I sort of knew what to expect, but was still surprised and impressed. I was surprised that I was a little bit uneasy after getting in the water. I wasn't panicked, but felt a little unsure, which is a strange feeling for me. I realized that I was feeling that way mostly because my BCD (buoyancy control device) was too tight and restricting my breathing. Once I loosened that, I felt much calmer.
After that, it took me a good while to get used to breathing through my mouth and not my nose. My mask kept fogging up and my instructor wrote out on his pad, "You're breathing through your nose", which I already knew, but having him say so still helped me to quit doing it.
Once I got the hang of mouth breathing, and realizing, reassuringly, that I was going to have enough air and could breath normally, I did great. I got the hang of it right away and really enjoyed it. The world under the surface of the sea is like nothing I've ever seen before. The colorful fish and array of strange and unique aquatic life was endlessly fascinating, every minute of it, and there was something to observe in every square inch of the water we swam in. I was entralled. I considered going again for another trip before I leave, but decided not to due to having to get on a plane soon. There's some danger in not waiting 12 to 18 hours before flying.
Our next day was sort of a down day. We slept in fairly late, until about 10am, then just layed around at the Chill Out bar, only getting in to swim once in a while. The only thing we really did much of, photographically anyway, was take a longtail out around the islands - mostly Poda Island and Chicken Island - for sunset. It really didn't turn out too well. The sun was almost entirely obscured by clouds at that time of day. It was a bit of a let down, but it was still fun. The trip was nice and relaxing, and we did see some beautiful features of the land and water just off the peninsula.
The village/beach where we've been staying, Hat Ton Sai, is world-renowned for rock climbing and I can see why. More than any of the other beaches, Hat Ton Sai is enclosed by limestone cliffs which make for excellent climbing due to the notchy surface and variety of angles, making it a great place for both beginners (like me) and really advanced climbers as well. There is one area where the cliff face is completely inverted, meaning the climber is hanging with their back parallel to the ground. This came into being when the bottom of the stone cliffs were worn away by the tides, leaving cliffs that are somewhat V-shaped with an almost cave-like area scooped out at the bottom.
My two days solo
John had to leave two days before me. It was really a bit sad for me. When I first invited John to join me on this trip, I didn't have a high expectation that he would, being that he's enrolled in grad school. So when he told me he was really going, I was thrilled. However, I still fully expected we'd travel independently at some point, me going off to see things I want to see and him doing the same, only to meet up again at a determined time and place. But as it turned out, we'd been together for every moment of this journey. So in a way it didn't feel right to be here now, without him. But nonetheless, I decided to stay, as I would expect him to do if roles were reversed. But still, seeing him off this morning was hard. I didn't want him to go. I would have preferred if we had started and finished together. I sort of felt guilty about enjoying a part of this trip without him. What started off as my solo trip ended up truly being our trip, our adventure, and our fantastic memories. And I don't know if I could have done a trip like this with anyone other than John. He's the only one I know who shares the same sense of adventure (or is it insanity) that I have. I'm so truly glad he came along. This trip wouldn't have been the same without him.
After seeing John off and going back to sleep for a couple of hours, I decided to rent a kayak and go out snorkeling, two things I really enjoy. The kayak was fun. It gives you the opportunity to go places independently that no other boat can get to. Plus the solitude of just being one person in a small boat is very peaceful. I really enjoyed it. I went to the Phra Nang Cave, a small island between Hat Ton Sai and Poda Island, and then to the cove at the south end of Ao Nang. The water here is so beautiful, with shades of emerald, turquoise, jade, and cobalt, depending on the depth and color of sand beneath. It looks like something out of a travel magazine and floating on top of it in a kayak makes me feel like I'm getting to enjoy a place very few people I know will ever get to enjoy. It's among some of the most beautiful and blessed places on earth. The marine life and coral below is fascinating. I've seen so many different types of fish and they're all just so intriguing. The coral here comes in all colors, some is brown, blue, green, purple, and red. It also takes various forms. Some just looks like a brain, with a tightly packed maze of channels, others have hundreds of skinny, waving fingers sticking upwards. Still others have fingers with many branches on branches on branches, almost like the veins of a leaf. It's all so amazing and intricate. I love it.
The downside of renting a kayak for half a day is being in the sun so long. I thought I had a pretty good base tan, but I got pretty burnt today, without really realizing it. I didn't feel like I was getting burnt until several hours later. When I was out there, I was getting splashed all the time and there was a nice breeze over the sea. But several hours later, as I was showering, I saw how red I had gotten. I slathered aloe on my skin several times since then, hoping to minimize the damage, but I'm afraid it may be too much. In any case, I'm going to limit my time in the sun tomorrow and use sunscreen whenever I am in it.
My time here in Hat Ton Sai, and in Thailand is coming to a close. I fly to Bangkok tomorrow morning and will spend half a day there, seeing the temples and palace by the river. I'll try to get a good night's sleep at a guesthouse that night, then it's back to the states Sunday morning. I'll get back in Nashville about 5:30 pm on Sunday night, but although it will be the same day as when I left Bangkok, because I cross the international date line, it will actually be nearly 24 hours between when I leave Bangkok and when I arrive in Nashville. I'm not looking forward to that, but in a way I'm looking forward to being home. This has been a long trip and I'm ready to return.
But in a way, I'm not sure if I really want to return or if I've just resigned myself to it because I have a return ticket, plus a cat and a home to take care of. If I didn't have those things, I think I could seriously entertain the idea of staying here, maybe working toward a scuba certification that would let me teach diving. The instructor that I went down with, Gabbie, has been here for four years doing just that. There are worse ways to make a living. It's very tempting.
Since I got so sunburnt yesterday, I took it easy today. Probably too easy. I got a little bored. But it did give me the opportunity to finally go around Hat Ton Sai and West Railey and get some pictures. I hadn't done much photography at all since I got down south. I also got some good pictures of people rock climbing. I really had a great adventure and a great experience here. I'm going to miss a lot. The scenery is breathtaking. The smell of the surf is relaxing. The fresh tropical fruit I'll especially miss. Pineapple and banana shakes, I'll have to start making at home, along with a bowl of fresh fruit with muesli and yogurt in the morning. I'll miss the friendly staff at the Dream Valley where we're staying. They're all smiles and always greet me with "Hello. How are you?" Even if they just saw me 10 minutes ago.
I'll miss this place, but it is time to go. It's a very small village and once you've kayaked, rock climbed and went scuba diving, things to do get hard to come by. Sitting around the Chill Out bar becomes droning. Swimming in the bay is nice, but not when you have a sunburn. Right now, the comfort of home is calling me, and the lure of Christmas, just days away, seems the most inviting thing in the world. But, not to get ahead of myself, I still have half a day in Bangkok.
The Hustling, Bustling City of Bangkok
I'll admit, my first impression of Bangkok was not a very good one. It was mostly, "Ugh!" Bangkok is a huge city, very crowded, always noisy, the smell of diesel fuel is omnipresent, as is the gridlock of traffic. However, after spending a few hours here, along the riverbanks in the center of town, I have to admit I wish I'd budgeted a few more days here. I don't regret giving more time to the beautiful rural and mountainous areas we saw, so I think we spent our time wisely, but I underestimated Bangkok's appeal. I could really see myself seeing this city for a few days the next time I'm here.
I had to make the most of my few hours in Bangkok, so I decided to head straight out to see the touristy highlights. First to the mecca for backpackers from all over the world, Khao San Road. This is a densely packed pedestrian street full of very cheap guestrooms, restaurants, internet cafes, and tourist services. It's hellish and electric at the same time. I stopped here for a drink and to take in the wonder of this notorious stop on the Asian backpacker circuit.
Thankfully, despite its reputation, Bangkok is not populated entirely by scammers and thieves. I absent mindedly left my daypack setting on the chair next to me as I got up and left, leaving a laptop computer and a digital SLR camera behind. I had walked about half a block when my server came running up behind me, frantically yelling, "Mister, mister." Once he got my attention, he handed me my pack saying, "You forgot this." Needless to say, I thanked him profusely and added about a hundred baht to his tip.
But despite his honesty, there is the seedier, scamming side to Bangkok. As I continued walking, by the time I got to Wat Po, I had been approached three times by the infamous Bangkok "gem scam" purveyors. These are people who prey on tourists, who they perceive as being rich, trying to get them diverted from their plans to go look at gems they can supposedly supply to them for resale at a great profit. In reality, they're not real gems. They're less than worthless. I knew the game and I wasn't interested. I only had a few hours, I didn't feel like squandering it wrangling with insistent scammers, so I said "kap khun khrap", thank you in Thai, and moved away.
I passed by the Royal Palace on my way, trying to get in to get a picture. However, a young guard who looked like he couldn't do a very good job defending the place against me, who towered about a foot over him, made it clear I couldn't go in and couldn't take pictures. Oh, well.
On to Wat Po, which I found really interesting. I wish I had had more time here. It covers a lot of ground and you have to take your time to take it all in. I was fortunate enough to witness a group of monks performing their evening chants. I was reverently quiet as I approached to take a photo. The serenity of the place and the moment was more meaningful than I had expected, being that I'm not a Buddhist and don't know much about the religion. But, from the experience I've gained, from monks and other people here, I've grown a real respect for Buddhists. They are without a doubt the kindest, most peaceful and eager to please people I've ever met. They're very endearing.
Well, after seeing the virtuous side of Bangkok, my trip wouldn't be complete without seeing the infamous sleazy side too. Since the days of American servicemen taking leave from the Vietnam war, Bangkok has had a reputation. I had no interest in participating, but I couldn't leave Bangkok without going to see the red light district, called Patpong, between Silom and Suriwong streets in the lower east side of the city. I headed off on foot from Wat Po, not realizing how far it was to the red light district. I enjoyed a stroll through the crowded street markets of Chinatown, but began to wonder how far I had to walk. After referencing the map, I decided to hail a cab for the rest of the trip.
To my surprise, the red light district wasn't 100% devoted to sleaze and sex. There was actually a mixed crowd there, men and women, even some children. The sex shops were fairly well isolated and the raunchiest side streets were not open to children. Surrounding the red light district were lots of street vendors selling everything you might imagine, from bootleg CDs to fried grasshoppers. All in all, it was a pretty festive atmosphere. Sort of like Mardi Gras, only it goes on year round.
In the end, I'm glad I spent a few hours here. It was an entertaining glimpse into the life of Bangkok and what goes on here. It was neither as bad as I had expected, nor like anything I've seen in the U.S.
After that adventure packed day, I was ready to get a few hours sleep, then be on my way back home, 27 hours in the air before I'd be back home in Nashville. And I can't wait to do it again.